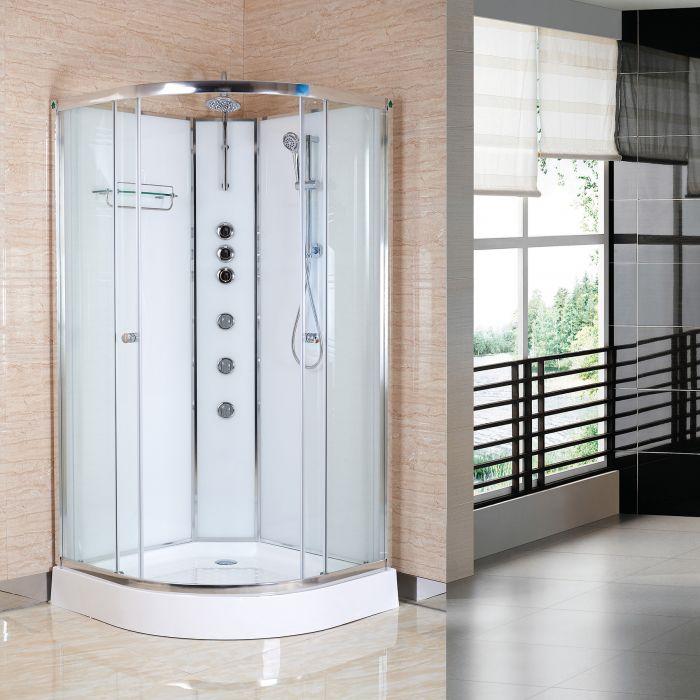 The quadrant shower tray is designed to use with the shower enclosure of the same shape. The shower trays are important as they give a finishing touch to any shower area. When you install a shower enclosure that surrounds the shower area, the floor remains uncovered, which may cause different types of problems. These problems may range from the risk of slipping or falling off the floor or water that may leak into the other parts of the bathroom, making it look messy. Even if it is just a shower area, installing a shower tray has many advantages. You get a firm or solid space where you can stand and enjoy your shower.
Since shower area cubicles can have different shapes, it was essential that shower trays be available to compliment them at the same time as well. Quadrant tray is among the most popular design that we extensively use under quadrant enclosures.
How is Quadrant Shower Tray Different
The major difference between the quadrant tray and others is their shape. While all other tray options, whether square or rectangular, have sharp edges, the quadrant is the slop front. That gives it its distinct shape. Due to their unique shape, you can easily install them in bathroom corners.
Preferred Shower Doors Options for Quadrant Shower Tray
It's clear that Quadrant Shower Tray is suitable for quadrant shower cubicles. The shower doors that go well with this shower tray are pivot and sliding shower doors. You may opt for other options depending on your specific needs. But you will have to face trouble fitting other door options while installing. So, it's better to have professional help in this regard.
Also read about: Top 7 beauty tip from all around the world
Advantages of a Quadrant Shower Tray
The quadrant trays may have various benefits for their installation in the shower areas. The first advantage of this tray type is that it does not cover too much space in the bathroom due to its shape. As you know, it has a slop front that has a curve and a straight shape from the backside to fit with the wall. If we compare it to other shape edge shapes, this curvy style will help you save space in the bathroom. Most people struggle with managing the bathroom space for renovations. For them saving even a few inches for other fixtures matters a lot. Therefore, if you have space issues in the bathroom, consider this shape of enclosure and quadrant shower tray
The other advantage of this shower tray is that it can fit in various bathroom layouts. Sometimes we have odd bathroom layouts where it becomes difficult to fit our bathroom fittings and fixtures. In most such cases, this type of tray can be an appropriate option.
The slopy curve front invokes a softer touch in the bathroom. In comparison to others, it seems soft, quiet, and beautiful. In the bathroom, where you want to relax, shower or bath, it is important to create a serene environment. And this type of tray is helpful for that. So, this is not only a highly functional design but great for aesthetic purposes at the same time.
Another advantage of this type of tray is that it has a slightly different offset version available. If you have a bit bigger shower area, then an offset tray can be suitable for it. That means you can still use it in the bigger bathroom, where you have a larger shower enclosure installation.
Browse Stylish Quadrant Shower Tray at The Royal Bathrooms UK
We have discussed the quadrant shower tray in the last section. It will help clear any misconceptions that you might have. If you want to install this type of shower tray, you will need to consider the material and quality of the tray. You may have options to choose from plastic, acrylic, or ceramic shower trays. However, we suggest that you choose an acrylic tray as these have lightweight and cost less. At Royal Bathrooms, we have an extensive range of slimline acrylic shower trays available at the lowest prices. These only have 6mm width but are still very durable and cost less at the same time.