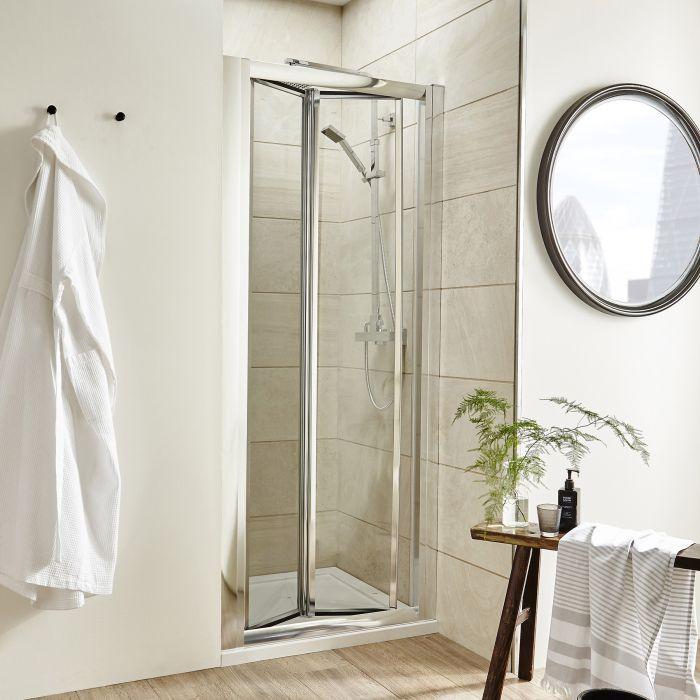 Bifold shower doors are foldable doors that give your bathroom a beautiful look. It is among the popular choice, especially for small enclosures. The doors are the main component of an enclosure unless you choose a walk-in shower. Besides the design of the enclosure and the glass thickness for wall panels and a shower tray, you will need to decide about the doors too. The doors for shower space serve the same purpose as an ordinary door does. It is a structured point of entry into the shower. In addition to that, these are also important for making your bathroom appear beautiful. The sliding door is a similar door option that works in the same way. Therefore, many people have the confusion about choosing the appropriate door among them.
How Sliding and Bifold shower doors are Different
The first obvious thing is that we are comparing a sliding door with a folding door. So, that way, these look and operate in different ways. However, both doors are controlled by the rollers that work the moves around the strings to make them move in the backend. The material of these rollers is an important consideration as it may have a huge impact on their work. You must choose an aluminum roller instead of plastic to enjoy its working for a longer period. Both have twin panels. The one slides on another on one side, while the other folds in the same way.
Sliding VS Bifold Shower Doors Opening
If we compare sliding and bifold shower doors opening, then it can be realized that there is a major difference in how much opening it creates for an entrance. The bifold option has a wide opening that will open up completely. In comparison, the other option is sliding, which will up to 65% of the total entrance size it covers. It is because the door differs in the way it operates and opens.
Sliding VS Bifold Shower Doors Style
Both sliding and bifold shower doors have a contemporary design that makes them a preferred option choice for all bathrooms. The one slides and the other folds while operating almost the same way. The choice of style depends on you. If you have a smaller bathroom, we recommend having a wider entry that you can get with a bifold door option. Sliding style is also a modern style that, however, keeps some space from the entrance covered.
Also read about: Lab Grown Diamonds India
Sliding VS Bifold Shower Doors Usability
If we compare both slide and bifold shower doors in terms of usability, we see that folding is a bit easier while sliding may need exertion. Both will take almost similar space inside the shower area, so neither is more spacious. However, bifold, due to wider entrance, may feel airier than its competitors. In case we compare them in terms of better control, then the sliding door is the one that can be kept an inch or two opened for letting a bit of air come inside the space. Contrary to the folding option, which opens or shuts completely due to the whole panel moving at once.
Our Verdict
Both bi-fold and sliding doors are a modern design that has a pretty much similar mechanism of working. They control the whole movement in both through a roller that moves along the panels. Which one is better entirely depends on your preference? If you want a wider opening, then choose a bifold option, and in case you prefer better control, then the sliding style can be a better option. You can use them in small bathrooms equally.
Bifold Shower Doors are Available at Royal Bathrooms UK
You now know which door can be a better option for you. Bifold Shower Doors are a great choice in many ways. At Royal Bathrooms, we offer all kinds of bathroom items at lower prices. Even with these great prices, we don't compromise on the quality.